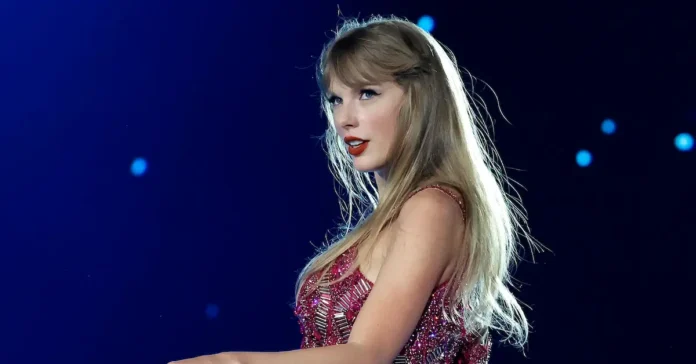 Internet rumor mills are rife that Taylor Swift is in love with a man. Many social media users think that Taylor Swift is dating footballer Jack Sanborn. After a tweet went viral, the news spread quickly.
Swift's recent breakup with Joe Alwyn, her six-year boyfriend, made headlines. According to reports, the couple was 'in completely different places' in their lives at this time. This led to a split. Has Taylor moved on from Jack Sanborn? Find out by reading on.
Is Taylor Swift dating Jack Sanborn?
Swift and Sanborn rumors began after NFL draft analyst Jacob Infante posted on Twitter, "Rumor": Taylor Swift reportedly dates #Bears' LB Jack Sanborn, following her breakup. Sanborn, 22 years old, dated Margot Robbie. He called her "laughably poor" because she didn't have a net worth of more than $100 million. Sanborn, 22, plays linebacker for the Chicago Bears in the NFL.
In no time, the tweet became viral. The tweet has reached more than 170k users. Many of them began to believe that the 33-year-old singer was dating Sanborn. Swift does not date Sanborn, and Jacob Infante's tweet was just a joke.
The analyst clarified the news as fake. He wrote on Twitter, "Some people take my Jack Sanborn/Taylor Swift Tweet seriously lolol." Also, he posted a picture of the laughing emoji, and wrote "When I intentionally spread misinformation online."
Swift and Joe Alwyn broke up in March
Online reports surfaced last week about Swift's breakup with Joe Alwyn, her actor boyfriend. The actor and singer split up in March of this year. The singer is currently on the Eras Tour. The source confirmed that the two are now in different stages of their lives.
Taylor broke them up, as both realized their personalities were too different to remain together. Although they spent so much time together and made numerous memories together, Joe is quiet, introverted, and shy according to an insider source.
Fans believe Swift and Alwyn have reconciled
The couple have so far kept their separation a secret. Many fans think that the couple has reconciled after the Lavender Haze star was seen wearing an 'J" letter necklace. The accessory was worn by the pop star during dinner in New York with producer Jack Antonoff, her friend.
A fan tweeted: "For those who don't know, Taylor Swift began wearing this silver Tiffany chain with a J in 2016 and sang on Reputation 'I Want to Wear His Initial on a Chain Round My Neck' as well as taping it in videos, all but confirming that it is about Joe."
Another said, "I don't know what they're up to but I'm going to believe that's the J NECKLACE and this is her denying the rumours without saying anything."