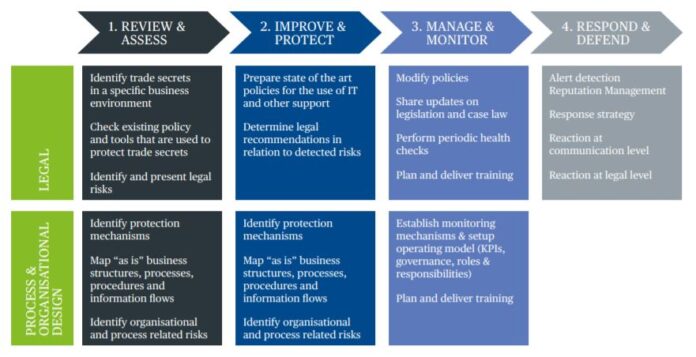 Protect trade secrets: Companies take steps to protect their trade secrets. Businesses all over the world use trade secrets to safeguard their know-how, boost innovation and competitiveness. Small and medium-sized businesses (SMEs) are more likely to use trade secrets for protection of their ideas.
Trade secrets are free from subject matter restrictions. They don't require lengthy or expensive procedures. Many of the most valuable business secrets do not involve patentable subject matter. The most valuable trade secrets are commercial bids, contracts, customer lists or supplier lists, financial information and planning.
This article will focus on the practical steps organizations can take in order to protect their trade secrets against their increasing financial and economic value.
How does a company protect its trade secrets?
These practical steps will ensure that the Trade Secret of a Company is protected:
Trade secrets are different from other intellectual property rights. It can be difficult to define what constitutes trade secrets. If a court requests to stop an infringement of the protected knowledge, it will issue an injunction. The defendant can ask the court for information about what they are allowed to use. If the claimant is asked to clarify its claims, the court will issue an injunction. Blockchain technology could be a solution to the problem of classifying secrets and characterizing them. As a storage proof and timestamp, you can upload evidence to a secure server.
Secured Informational Technology System
It is well-known that cyber threats to computer systems (viruses, ransomware, etc.) are well-known. Security measures must be in place for organizations, including encryption, password restrictions and virus protection. The procedure must be appropriate for the value and perceived danger of the information.
Access controls are a common feature in most businesses. The organization's risk will determine the level of security that is applied to staff and visitors. According to the Sunday Telegraph in the UK, certain corporations have proposed to "microchip" their employees (by placing a biometric chips beneath the skin). This will allow them to create access restrictions and protect critical areas of the company. It is not clear, however, if this extreme measure is worth the business risk.
Documentation is essential for sensitive information. Organizations must document and exchange it. Businesses should take the time to mark hard-copy and soft copy documents "confidential". This is an important step that companies shouldn't overlook. This indicates that the corporation has notified the public about the need to hide the information.
It is a sign that all reasonable efforts have failed to protect trade secrets stolen or disclosed by someone else. It's not always justified. Even with the best efforts of rights owners, there are always risks of misuse or exposure from a malicious or motivated infringement. Implementing an enforcement policy and having it implemented successfully are two different things. Because litigation comes with both risk and cost, The organization sends the message that it will protect and safeguard its rights by prosecuting violators.
What steps businesses can take to protect their Trade Secrets internally
It is important to have a formal employment contract with safeguards for trade secrets. Many employees will be satisfied with a regular contract. However, employees who are responsible for developing secret subjects or have access to sensitive information may need to be more specific about the contractual terms that they sign to protect the organization from any potential harm.
Ex-ability employees may be subject to restrictions or restrictive covenants, which restrict their ability to work in the same sector, geographic region, or for specific rivals for a certain time. These restrictions protect the employer from the unavoidable risk that an employee misuses their secrets when they leave an organization to open their own business or work for a competitor. Restrictive covenants are used to reflect the local restrictions on their use, the organization's risk level, and the cost and risk of enforcement.
Many businesses have different rules regarding IP production and ownership, including the observation and use of others' IP rights and confidentiality. It is a good business practice to have a general confidentiality policy. This shows that the company has made all employees aware of the importance of compliance.
Effective communication is just as important as following the rules and contractual provisions. Induction interviews are a way for employers to familiarize new employees with company procedures. Employees need to be taught about confidentiality. Participation in such programs ensures employees that they are not able to claim ignorance about the company's privacy policies. An exit interview is a way for the employer to remind the employee that they must keep confidential any information they have had during their employment. This is done to instill a culture that values secrecy at work by reminding employees about the importance of company assets.
Employee activity tracking
Employers can request that employees remove confidential information from their employers (unwisely). This can be done by downloading soft copies to a portable device, or emailing the files to a personal email address. Employers have the right, under national data protection laws, to monitor workers' use of computer systems in their workplace.
This post will provide a brief overview. HHS Lawyers & Legal Consultants are well-skilled IP professionals that can help you file a Trade Secret Litigation. They also perform periodic inspections as part of their vigilance against Trade Secret infringement.
With the assistance of the police and
To help the client file a Trade Secret Infringement complaint against the infringer.
For any legal assistance or help with your legal problems, please do not hesitate to contact experts