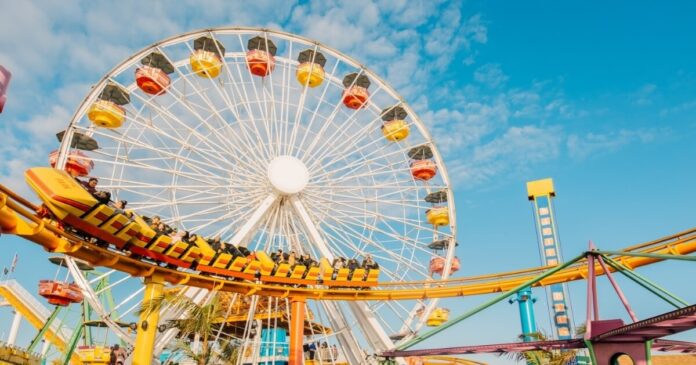 Now that the dust is settled from Mother's Day, the next holiday is Independence Day. Sure, there's Memorial Day sandwiched in-between, but that's a sad affair. This is about America's most fun public holiday—Independence Day. Small wonder, 61% of Americans intend to picnic, cookout, or BBQ on July 4th.
Fun fact: The Macy's show at New York City's East River uses more than 75,000 fireworks
shells, costing $6 million. With that in mind, here are five content ideas for the 4th of July that will light up your theme park.
Content Ideas for the 4th of July to Display on your Digital Signage
Since July 4th has colorful events on the cards, consider installing a video wall. It is a collage of multiple screens meant to work as one giant screen for displaying captivating content. To make use of that gorgeous and expansive display, consider showcasing the following:
1. Fun facts on the Fourth of July
Red. Blue. White.
The colors of the USA flag.
Ever stopped to ask yourself why those particular colors?
The answer to that is the subject of a content idea to display on your digital signage—fun facts. These are a fan favorite any other time of the year, so why not milk it on Independence Day?
Mysterious choice of flag colors aside, America is a wondrous country full of tradition and history. There's no shortage of fun facts about the 4th of July, so here are a few you could display:
New York's One World Trade Center is 1,776 feet tall to commemorate the year America snatched her independence from England.

America's Independence Day should actually be the 2nd of July because that's the day the Continental Congress voted for independence.

Four presidents died on the 4th of July, while President Calvin Coolidge was born on that date in 1872.
2. American pride
Since everyone and their dog will be doing the same, think outside the box. Personalize the content to fit into the celebrations and tie it back to your branding.
The great thing is any content that paints America in good light is bound to elicit an appreciative audience. Leverage social media to drive the American pride message home.
Here's a hot marketing tip—when firing off a LinkedIn or Instagram post, try to do it in a fun way. Try to incorporate memes, GIFs, and hashtags in your 4th of July social media posts or related posts. Some memorable hashtags you shouldn't pass on include #IndependenceDay or #july4th.
The great thing about digital signage is you can choose different layouts to display on the screen. For instance, you could have a video of a fluttering flag on the top half of the screen and show a ticker tape of memorable Independence Day quotes at the bottom.
3. Interesting social media posts on Independence Day
Social media is usually a treasure trove of beautiful content that you can display. The best way to go about it is to ask your fans to share their best content on your social media handles.
You then display the best content in exchange for some reward, which should entice them to send their very best.
Social media marketing should feature in your content marketing campaign for 4th of July
content. To reap maximum benefits, lean hard on videos because 93% of businesses got a new customer thanks to a video.
4. Fun 4th of July celebration live events
Seriously, why would anyone show live events on July 4th? Because 33% of Americans intend to attend a fireworks display or community celebration, that's why. That translates to many fanfares and live events you can beam live on your digital signage.
Everywhere you look, there's bound to be a cracking 4th of July party featuring ice cream,
cookouts, and grilling of hotdogs, so keep your cameras rolling for all that live-action. Or you could look around for interesting free content beamed live over the internet.
Besides, the 4th of July also hosts other quirky milestones that people will celebrate, including Caesar salad day and Jackfruit day.
5. Special offers
Hey, you shouldn't feel so dirty about trying to profit from all the fanfare. Cheer up; your customers understand you are a business, right? Right?
After all, it's not as if you are only displaying advertising content spewed from your marketing
strategy. They will benefit from this as you'll only show 4th of July sale discounts offered on the amusement park.
Why Digital Signage Is Vital for a Happy 4th of July
Digital signage allows you to showcase dynamic and visually appealing content using large displays. It helps you leverage memes, text, and fun videos to educate, communicate, and
entertain the target audience.
That means you get to display 4th of July content to an appreciative and patriotic crowd in a fun way.