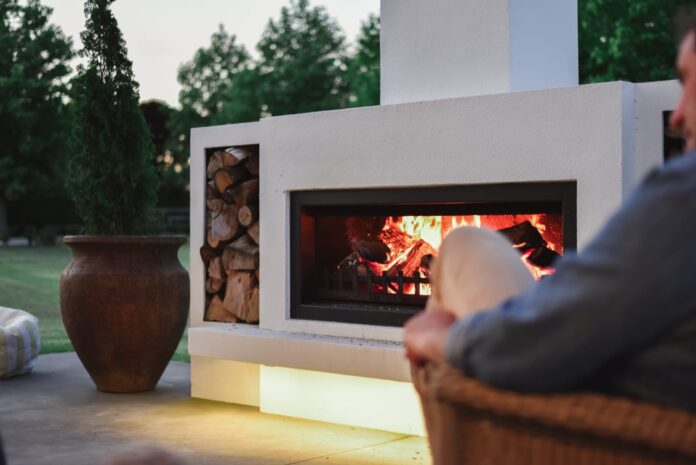 When you hear "fireplace," you probably think of a cozy living room, complete with plush furniture and all the creature comforts. If you think firepit, though, it's more like a ring of cinder blocks out at a campsite, full of old embers and ash. Not exactly what you imagine for luxury living!
That's where you'd be surprised, however. Of all the home upgrades that have fetched a premium during the past couple of years, one of the highest returns on investment is in high-quality, hardscaped outdoor fireplaces. HomeLights' Top Agent Insights survey discovered that people are seeing an average of a 72% increase in home sale value for having these luxury additions. Let's dig into why that is, and what people are looking for in a great outdoor fireplace.
The Boost in Outdoor Entertaining
COVID-19 really shifted the way that people socialize and entertain in ways that even a post-vaccine attitude hasn't fully affected. While bigger gatherings are possible, breakthrough cases and other concerns have driven many families to choose smaller social circles and outdoor gatherings, both of which work perfectly with a backyard. Rather than investing in spa vacations or crowded travel destinations, many families opted to pour some of their hard-earned dollars into outdoor features that would really make home a haven.
While outdoor kitchens, hot tubs, and pools were definitely important features, upgrading the simple home fire pit through creating a permanent, large, and beautiful outdoor fireplace has topped many people's lists. These features often include a stone patio around the raised fireplace, a gas or electric fireplace if open fire bans are in place, and comfortable seating.
What Really Makes an Outdoor Fireplace Glow
The popular trend is to make gathering around the fire a memorable social occasion that has a comforting feeling and a dynamic look. Warmth is fully secondary, though it doesn't hurt if you happen to have a chilly night when you'd planned to have folks over for dinner and drinks. The idea is that fire touches an elemental part of us, but also that many resorts have these opulent fireplaces outside for gathering, so the right fit for an outdoor fireplace is something luxurious and resort-like while still being harmonious with the look and feel of your patio or yard.
Also Read How to Improve a Home's Curb Appeal this Winter in Just a Few Steps
While individual choices of how to make your outdoor fireplace could affect your property's resale value, a fireplace's best value is almost always going to be in its use with your family and friends. If you do an extensive renovation that includes an outdoor fireplace, it can cost upwards of $20,000, so you should be happy with how it looks for you. Any boost to your home's resale value down the road is secondary, and just a really nice bonus.
However, if you are looking for a house right now while selling your own, you might want to consider a home with one of these outdoor fireplaces. They offer great entertaining value and are likely to hold a strong value for years to come.