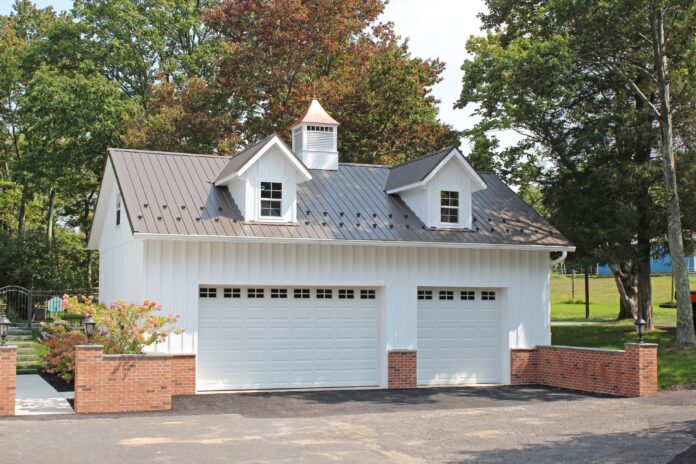 If you're someone who loves spending time around cars, motorcycles, or bikes, your garage and workshop are probably your second home. They are the perfect space to detox and escape from the world, allowing you to get serious work done. Similarly, a prefab workshop or a modular garage is built in an off-site manufacturing unit and can be quickly transported to your home. Not only are these extremely flexible workspace options, but being pre-made, these steel structures are straightforward to install and maintain.
It provides you with the dynamic flow of a portable garage while offering all the perks of a fully-established garage. The word prefab comes from prefabrication, meaning it was built elsewhere instead of being constructed on-site at your desired location. They are one of the best investments for any garage lover looking to bring their workspace closer to home. Being built beforehand makes it highly affordable and time-saving. You no longer need to shell out thousands of dollars on getting someone to buy you a garage at home. Instead, you can order one for yourself while being assured that the workshop is of the same quality and value.
Prefab Garages Or Workshops For Homes
A prefab workshop is ideal regardless of the type of house you live in. They not only add value to your property but serve multiple purposes, making them the best investment to upscale your home and quality of life.
Can Double Up As Storage Sheds
One of the best things about a prefab workspace is that it can be used for anything. Whether you're looking for external storage space in your garden or a garage to house your priced cars, they are perfect. If you live in residential building spaces with a standardized code, these garages cannot be used for storing vehicles since they usually don't meet the set regulations. Instead, you can use them as a regular storage building. A large door gives excellent access points to hold your garden equipment, backstock, or power tools that you'd rather not keep inside the house.
Can Be Used As Creative Spaces
A workshop is an ideal space for DIYs or other creative projects. If you've kids or pets at home, you're worried about storing your equipment around them. Apart from safety concerns, you might even find yourself not finding a suitable space to work in. Here's where these garages come into the picture. They offer a secure facility to conduct your projects, such as woodwork, painting, or other crafts. Moreover, you can also store all your materials and hold your finished projects until you're ready to put them up.
Can Be Used As Additional Rooms
If you're someone who wants to add an extra room to your home, a prefab garage is the best way to go about it. You can effectively convert it into a habitable living space. Since it is already equipped with extensive wiring and electrical connections, good ventilation, and plumbing, it's already got the basic layout of a room. All you have to do is empty it and redecorate it to make it appear homely and cozy.
Final Words
A well-built prefab garage is a fantastic addition to your home. It adds more value to your property and increases its overall function, making it a sound investment. No matter what you use it for, you can always rely on a garage to offer extra workspace space in your home. With the right builders, you no longer need to worry about compromising on its quality and reliability. Instead, you must order your prefab steel workshop and let the experts do all the work for you.